Automate Time-Consuming Commissions Calculations
Tracking and paying commissions is a challenging business. For Carl Brandt, Inc., the process was even more challenging with the need to work through multiple distribution partners who supply supermarkets across the country.
What's more, paying commissions properly and accurately was a long process - a very long process. 
Add to the challenge changes to distributors, contracts coming and going, territories being reassigned, commissions split across brokers, and more.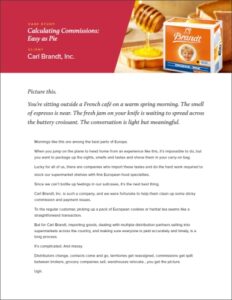 With Commission Plan from EthoTech, the team at Carl Brandt, Inc. was able to automate the process, which eliminated the 1-2 hours needed every day to review invoices and manually calculate commissions.
Carl Brandt, Inc. found a way to accurately and efficiently manage their commissions payment process, and so can you.
Download the case study and learn how.
See How EthoTech Works for Your Business
Tell us about your structures and rules, and get a personalized demo from an expert member of our team.