The Proof is Usually in The Pudding, Except This Time It's In The Onions
Using one-off reports, spreadsheets, and manually calculating commissions payouts is error prone and time consuming. Hartwig, a machine tool distributor and the manufacturer of the Bloomin' Onion cutter, had the same challenge.
They, however, found a faster, easier solution to calculate commissions payments with Commissions Plan from EthoTech.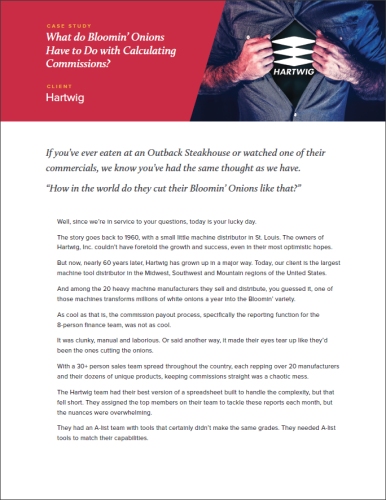 With Commissions Plan, Hartwig was able to automate the entire commissions payments process. Gone were the monthly one-off commissions reports, complicated spreadsheets, and hours of manual data entry.
Hartwig found a better way, and so can you. Download the case study and learn how.
See How EthoTech Works for Your Business
Tell us about your structures and rules, and get a personalized demo from an expert member of our team.