LEARN HOW TO STREAMLINE COMMISSION TRACKING AND PAYMENTS
Calculating, tracking, and reporting sales commissions is a complicated business – but it doesn't need to be.
EthoTech Commission Plan helps you eliminate error-prone and time-consuming manual commission payment processes. With EthoTech Commission Plan, you will save time, increase the accuracy of the sales commissions process, and gain real-time insight into the status of commission payments.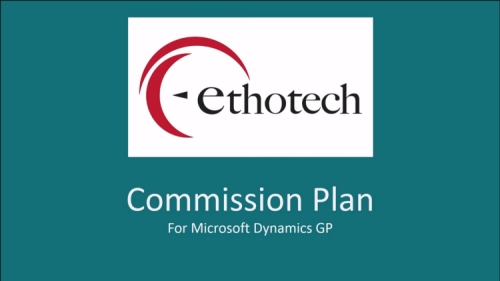 Watch this video and learn 5 ways Microsoft Dynamics GP users can simplify the commission tracking process, including:
Real-time sales commission tracking
Automated salesperson commission splits on sales documents
Simplified invoice/payment reconciliation
Simplified commission payment process
Full insight into commission tracking status for you and your team
Don't miss this opportunity, watch the video today!
See How EthoTech Works for Your Business
Tell us about your structures and rules, and get a personalized demo from an expert member of our team.