Eliminate Order Entry Mistakes and Increase Customer Satisfaction with Ethotech Customer Service Collection
Providing customers with accurate and efficient service is key to customer satisfaction – and profitability. This is why it is critical to ensure the order entry process is efficient and mistake free.
How can your business build in safeguards for the order entry process?
With Customer Service Collection from EthoTech, your business can easily eliminate common order entry mistakes like duplicate product orders, overextending customer credit, or promising out of stock items.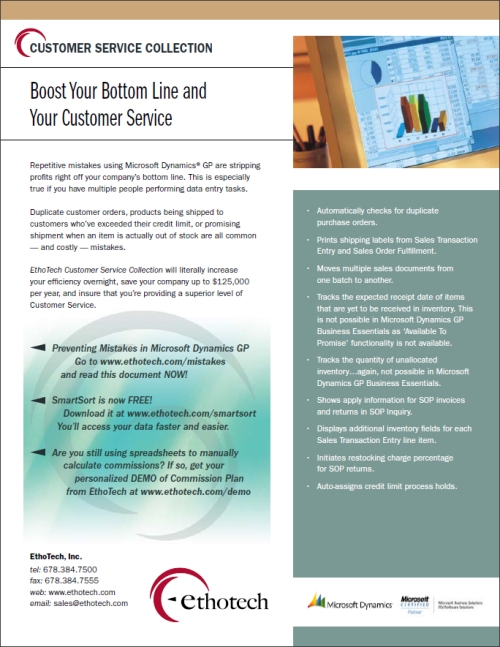 In this feature sheet, you'll discover how EthoTech Customer Service Collection can:
Display recent purchase history for customer item combinations in sales transaction entry
Check for duplicate purchase orders in sales and payables
Move multiple sales documents between batches
Print shipping labels from Sales Transaction Entry and Sales Order Fulfillment
And much more…
Ready to eliminate costly errors and uncomfortable customer follow ups? Download the feature sheet today!
See How EthoTech Works for Your Business
Tell us about your structures and rules, and get a personalized demo from an expert member of our team.